Tronic Universal Battery Charger
The
Tronic Universal battery charger
is an 'intelligent' multi purpose battery charger suitable for use with all NiMH rechargeable batteries and efficiently charges all the popular NiMH battery sizes AA, AAA, C, D and PP3.
The perfect family charger.
Buy Now - Save Later
The charger is very straightforward to operate, just place your NiMH rechargeable batteries into any available slot and the charger then takes care of each battery individually. Once charging is underway the charge progress is clearly displayed on the large screen to give an overview of the charge status of each battery. The charger monitors each battery individually and will stop charging automatically as individual batteries reach full power.
This battery charger can be used by absolutely anyone, its straightforward intuitive design makes it perfect for use by kids and grandparents and everyone in between and it's this simplicity of use that makes this the perfect family or office battery charger.
The Tronic Universal charger will charge 1-6 AA/AAA batteries at once or 1-4 of the larger C or D sized batteries simultaneously. Batteries can be charged in any combination. You can also simultaneously charge 1 or 2 PP3 9V batteries in the dedicated PP3 slots.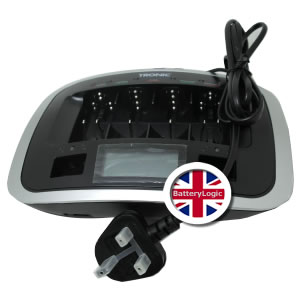 There is also a USB output socket at the front of the charger which can be useful for charging devices such as a mobile phone.
Battery sizes : AA, AAA, C, D and PP3
Battery types : NiMH
Charging current : Automatically applied up to 1000mA
'Intelligent' Charge termination : Minus delta voltage (-dV) detection
Display : LCD and LED for each battery
Over charge protection : Yes
End of charge trickle charge : Yes
USB Output : 1000mA max
Dimensions : 24 x 17 x 6 cm approx
Input Voltage : 100-240V (UK Plug)
BatteryLogic are UK rechargeable specialists and all orders placed before 5pm (mon-fri) are dispatched on the same day with
FREE UK delivery
via Royal Mail First Class post.
This charger is supplied with or without batteries and we have some very popular EverActive battery bundle offers below which represent fantastic value for C and D size battery users.
Tronic Universal Battery Charger