Technoline BL700N Battery Charger
The 'intelligent' Technoline BL700N is our best selling battery charger and the latest revision incorporating the very clever 'N-Step' charge technology effortlessly charges even the flattest of AA and AAA NiMH rechargeable batteries each and every time. The BL700N is widely regarded as the very best battery charger of its type and certainly the professional's AA battery charger of choice.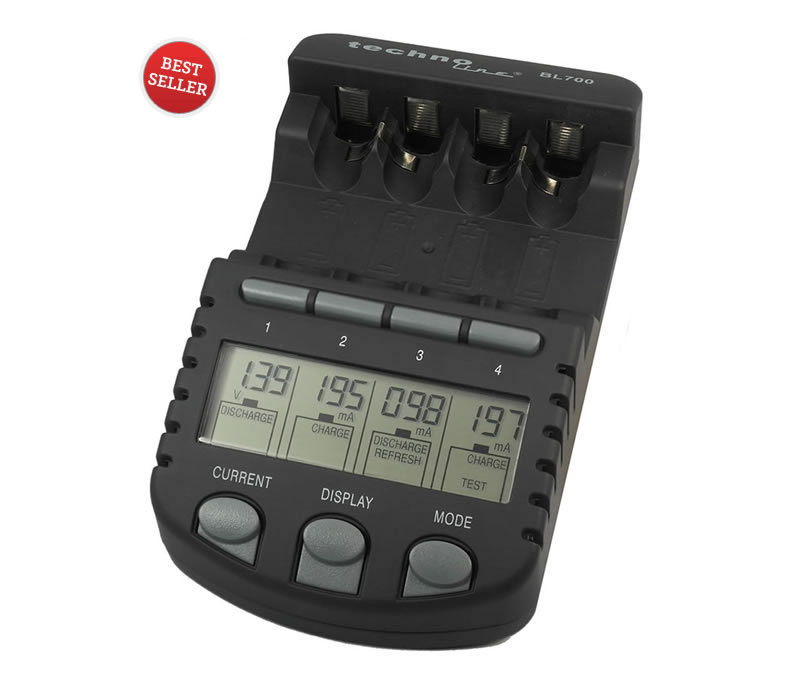 The professional standard Technoline BL700N battery charger is an extremely popular unit with both long time rechargeable battery users who have already experienced the problems associated with standard battery chargers, and the many users who are new to rechargeable batteries and simply want to do it properly from the start.
The Technoline BL700N battery charger with 'N' step charge technology uses only the very highest specification components and boasts four independent charging channels each of which allow for independent charging, discharging, refreshing or testing of any AA or AAA rechargeable battery, both NiCd and NiMH.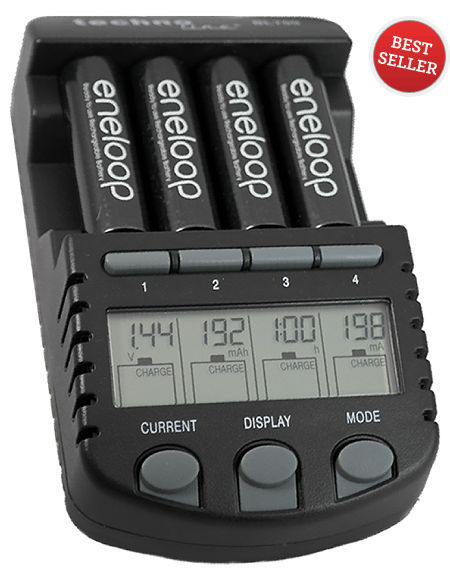 Perfect for charging odd numbers of batteries (1,2,3 or 4) or for charging batteries which are not always used and charged in sets as the individual battery monitoring takes the guesswork out of charging and provides spot on charging for each battery every time .
Each battery compartment has its own LCD readout which provides real time information relating to the status of individual batteries. You can view actual charge/discharge current, terminal voltage, accumulated mAh and elapsed time per cell.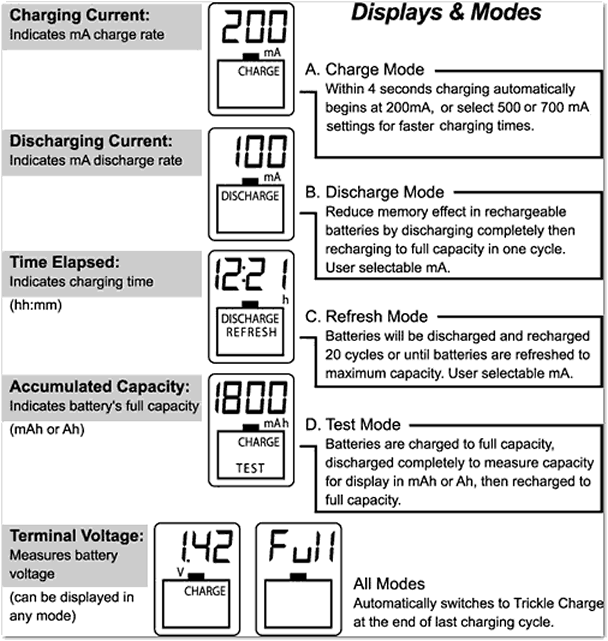 BatteryLogic have proudly been the UK distributors of the Technoline BL700 battery charger for more than a decade and due to its fantastic service record and continual technical improvement, the BL700 has been our
best selling battery charger each and every month for more than ten years!
The impressive performance and reliability of the BL700N is a direct result of the clever onboard software and the use of very high specification components throughout.
If you think you've seen this excellent battery charger cheaper elsewhere, you haven't. The class leading Technoline BL700N is often copied but never equalled.

Technoline BL-700N Specifications
| | |
| --- | --- |
| Power supply : | 110-240V AC (UK pin) |
| Input Voltage : | DC 12V |
| Battery Count : | 1 - 4 single cells, cylindrical |
| Battery Sizes : | AAA, AA |
| Battery Chemistry Type : | NiMH, NiCd, |
| Charge Current Range : | 200, 500 or 700mAh /slot |
| Discharge Current Range : | 100, 250 or 350mAh |
| Operation Modes : | Charge, Discharge, Test, Refresh |
| Display : | LCD |
| Temperature Sensors : | Internal |
| Operating Temperature : | 0°C - 40°C |
| Calibration : | Factory calibration |
| Voltage Measurement : | ±10mV internal resolution |
| Current Measurement : | ±10mA internal resolution |
| Standby Current Drain : | <0.05mA / battery |
| Reverse polarity protection : | Yes |
| Over temperature protection : | Yes |
| Over capacity protection : | Yes |
| Dimensions (L×W×H) : | 130× 75× 35mm |
| Weight : | 135g (approx.) |

Technoline BL700N Battery Charger