Panasonic BQ-CC55 Battery Charger
The Panasonic eneloop battery charger BQ-CC55 (
including 4 x eneloop Pro AA
) is an 'intelligent' battery charger suitable for charging all AA and AAA NiMH rechargeable batteries. The BQ-CC55 is intelligent on a per battery basis and what this means is that it can independently charge 1,2 3 or 4 batteries at a time and can also charge AA and AAA NiMH rechargeable batteries simultaneously.
Supplied with 4 x eneloop Pro AA batteries.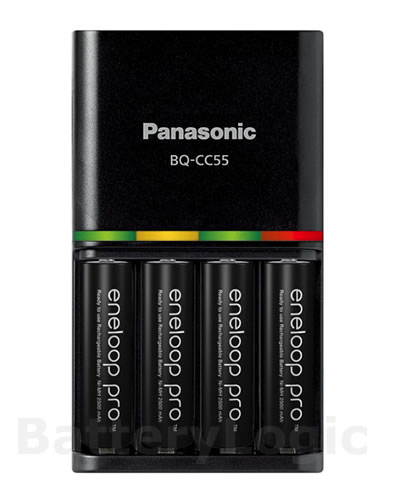 Although a relatively quick charger, approximately four hours for fully drained eneloop Pro AA batteries, the BQ-CC55 efficiently charges batteries and is therefore the perfect battery charger for use with any good quality AA or AAA rechargeable battery brand including the excellent eneloop Pro AA batteries which are included with this offer and widely regarded as being the very best of the best.

The charging progress is controlled by Smart Charge, which continuously checks the voltage and temperature of the batteries and automatically ends the charging process on a per battery basis. The charger has 4 colour changing LEDs that indicate the progress of charging (red: 0-20%, yellow: 20-80%, green: 80-99%, after full charge the LED turns off). In addition, the charger can signal a potential battery problem through yellow blinking LEDs. A blinking red LED indicates a charging error (eg, wrong type or defective batteries).
Sample charging time:
eneloop Pro AA 2500mAh - 4 h
eneloop AA 2000 mAh - 3 h
eneloop AAA 800 mAh - 3 h

4 x rechargeable Panasonic eneloop PRO AA 2550mAh batteries are included.
The four eneloop PRO AA rechargeable batteries included are ideal for powering high power devices such as camera flashes, wireless keyboards and mice, game controllers, radio controlled toys, and a wide variety of household appliances. With eneloop PRO batteries all these devices can work much longer. The eneloop PRO AA battery (BK-3HCDE / 4BE) has the highest capacity of the new generation low self dishcarge rechargeable batteries (2550 mAh), retains 85% capacity after 12 months of storage and operates at temperatures down to as low as -20°C.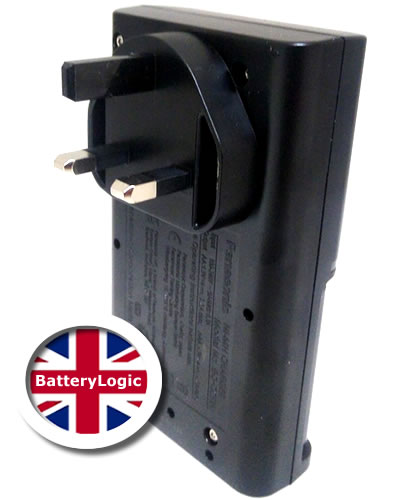 TECHNICAL SPECIFICATIONS
| | |
| --- | --- |
| Input Voltage: | AC100-240V 50-60Hz (3-pin UK mains plug) |
| Charge Current : | AA 750mA, AAA 250mAh |
| Charge Control: | This charger has a "Smart Charge" function which checks the voltage and temperature of batteries automatically whilst charging. Thanks to this Smart Charge function, it enhances both charge time and energy efficiency |
| Indicator: | Colour changing LED Display |
| charges type: | AA x 1-4 / AAA x 1-4 cells |
| Dimensions: | 66 (W) x 120 (L) x 28 (H) mm |
| Weight: | 130g |
| | |

Panasonic BQ-CC55 Battery Charger
If you have any questions about the
Panasonic BQ-CC55 Battery Charger
please call on
020 8989 1087
020 8989 1087
(mon-fri 10am - 5pm) and we'll be very happy to help