Technoline WS-9632 Weather Boy
The ever popular Technoline WS-9632 Weather Boy weather station with attractive and modern styling boasts indoor temperature and humidity, outdoor temperature (so you can
see how

warm

or

cold

it is before you go out
) plus a radio controlled clock for consistently accurate time. The WS 9632 also cleary displays the date.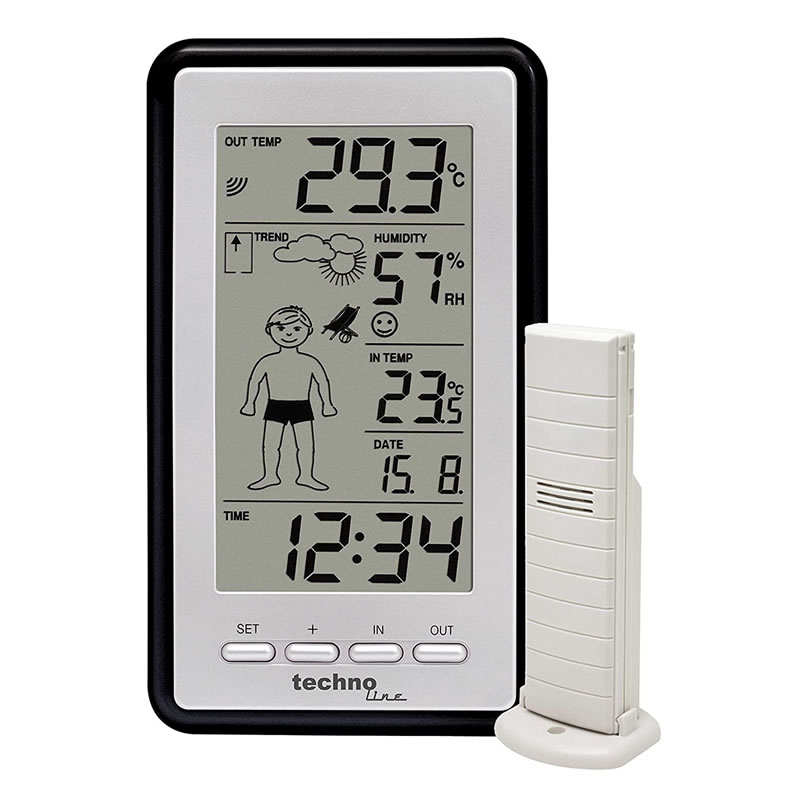 The WS-9632 weather station, from Technoline Germany, also includes a pictoral weather tendency prediction which is based on barometric changes in air pressure much in the way that a traditional barometer would function and indicates if fair or heavy weather may be approaching.
In addition to the above, the main feature of this weather station is of course the 'weather boy' with 15 easy to read weather indicators depicted by changes in the weather boy's clothing (as shown below) and this feature is popular with both children and adults alike.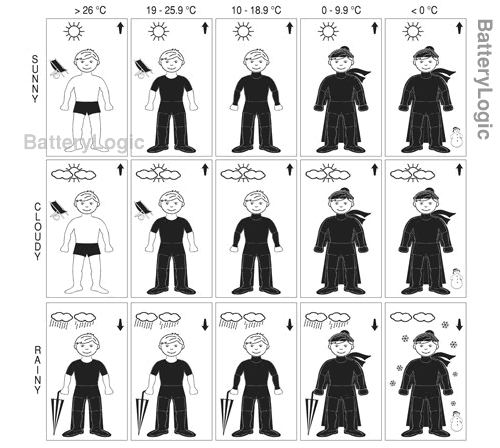 The weather station is designed to be free standing for table top use or wall hanging and is supplied with a wireless temperature sensor for measuring the outdoor temperature (when placed outside the sensor must be located in a dry sheltered location away from direct rain). The wireless temperature sensor has a range of -39.9 to +59.9 degrees centigrade so you can always see how warm or cold it is before you go out..
Indoor Temperature
Outdoor Temperature (wireless temperature sensor included)
Indoor Humidity
Clock with hour and minute display
12/24h time format
Date (DD:MM)
Min/Max recording for indoor and outdoor temperature
Wall mounted or table standing
Indoor Display powered by 2 x AAA batteries (not included)
Wireless temperature sensor powered by 2 x AA batteries (not included )
Immediate dispatch with
FREE UK delivery
via Royal Mail First Class post
Technoline WS-9632 Weather Boy
If you have any questions about the Technoline WS-9632 Weather Boy please call on
020 8989 1087
020 8989 1087
(mon-fri 10am - 5pm) and we'll be very happy to help