Technoline WZ1000 Garden Hose Timer
The Technoline WZ1000 is a fully programmable water timer for use with garden hoses and irrigation systems, with two separate timers for taking care of watering, convenient for regular watering and especially useful for garden sprinklers etc if you are away on holiday or simply too busy or unable to water during hot periods.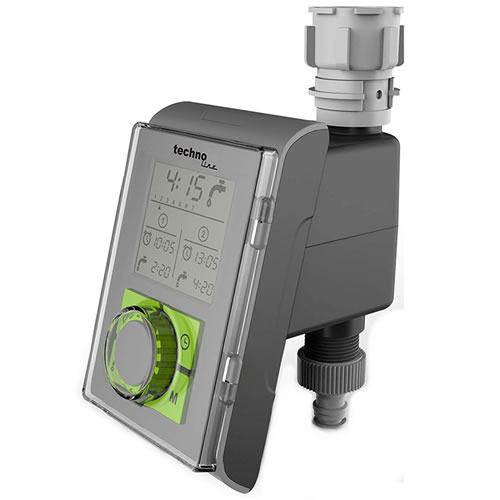 You can set the start time, the watering duration (between 1 minute and 23 hours 59 minutes) and the watering interval (every day, every 2nd day, every 3rd day etc) There is also a manual override function so that you can use the tap for watering outside of the times that you have programmed the timer for.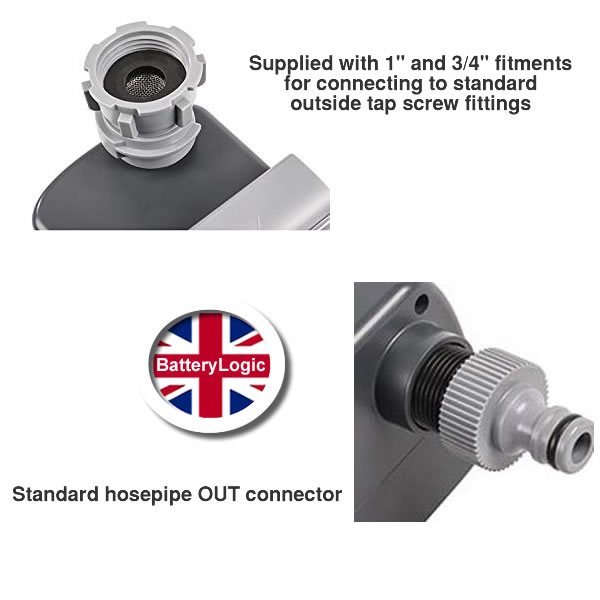 The timer is designed for use with standard garden taps with either 1" or 3/4" screw fittings for the water in, and the water out fitting is either by 3/4" screw fitting or with the included standard hosepipe connector as shown. There is detailed
YouTube product demonstration video here
Dual Timer for two timer cycles
Adjustable irrigation from 1min to 23h59mins
Battery operated : 2 x AA (not included)
Splash proof housing (IPX4)
Overide button for manual operation
Selectable cycles by day from daily to weekly
for use with standard outdoor taps (1" and 3/4")
BatteryLogic are UK Technoline specialists and the Technoline WZ1000 Garden Hose Timer is supplied with a full 12 month warranty.
Order before 5pm (mon-fri) for same day dispatch via Royal Mail First Class post

Technoline WZ1000 Garden Hose Timer
If you have any questions about the Technoline WZ1000 Garden Hose Timer please call on
020 8989 1087
020 8989 1087
(mon-fri 10am - 5pm) and we'll be very happy to help