Japcell BC-1600 Battery Charger
The Japcell BC-1600 is a 16 slot battery charger and a robust solution for heavy users of high capacity AA and AAA rechargeable batteries. Whether you call it a 16 slot, 16 bay or 16 position battery charger this unit is great for charging a large number of AA or AAA rechargeable batteries simultaneously.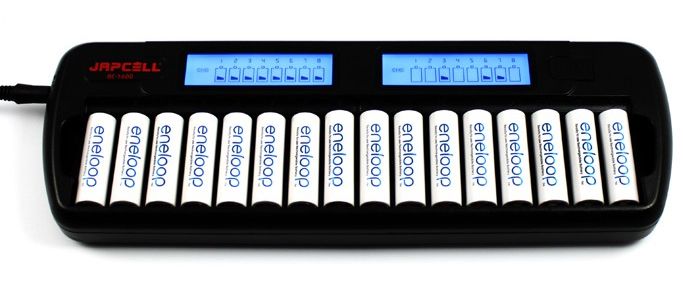 16 Independent Charging Circuits
Featuring sixteen independent circuits, you can charge 1-16 AA/AAA NiMH rechargeable batteries, from any manufacturer, in any combination.

Clear LCD Screen
The Japcell BC-1600 battery charger incorporates a large LCD screen showing the charging status of each battery with a clear and easy to read bar display corresponding to each battery position.



Precision Microprocessor Controlled
The Japcell BC-1600 battery charger is controlled by custom microprocessors and super high tolerance A/D converters for consistently accurate charge termination ensuring that charging ends for each battery as they reach full capacity.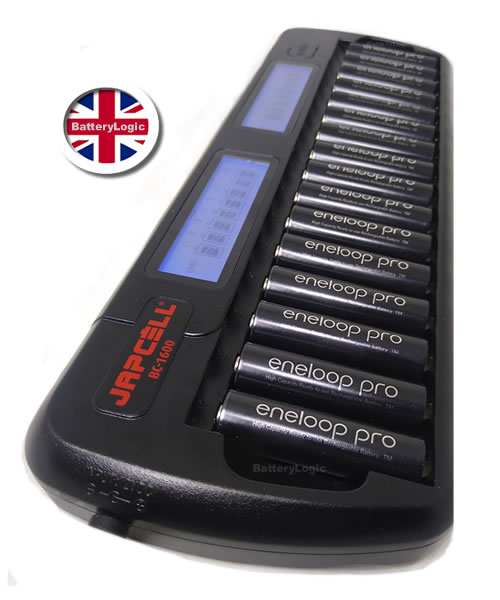 Charges 1-16 AA/AAA NiMH rechargeable batteries
16 individual charging channels
Advanced IC/ dV Control function
Overheat protection
Over current protection
Short Circuit protection
Defective battery detection
LCD indicates individual charging status
Input : 12V 2000mA
Output : AA 1.2V - 500mA
Output : AAA 1.2V - 250mA
Discharge Current : 200-300mA
Battery Type : AA/AAA NiMH
Dimensions : 30 x 11 x 3 cm
Supplied with 100-240V UK power supply and 12V car cord
This is the high specification version of the Japcell BC1600 battery charger which over the years has built a solid following with professional users as an establsihed favourite and is especially popular with sound engineers in particular.

Japcell BC-1600 Battery Charger